Posted 02/21/2017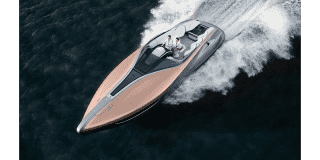 Lexus has long established itself as a premier automotive brand that strikes the perfect note between luxury and performance on the roads. It also appears as though company is looking to not only dominate the roads when it comes to their product, but the open seas as well with their new pilot, Lexus Sport Yacht.
Akio Toyoda, the president of Toyota Motor Corporation arrived at a Miami waterfront mansion last week to take a test spin of a concept designed by the luxury division of his company, Toyota. The 42-foot marine mammoth boasts twin V-8 gasoline engines that output an incredible 950 HP allowing for a top speed of nearly 100 KM an hour.
The luxury liner also offers a "turbo-boost" option which provides an additional 1,000 RPM over the rev limiter to provide a quick boost that's sure to get the heart racing. Sticking with the traditional combo of style and performance, the Sport Yacht's hull is comprised of carbon-fiber reinforced plastic which saves roughly 2,200 pounds, allowing for higher speeds off shore.
To see Japanese precision engineering in person, be sure to visit Don Valley North Lexus, located at the corner of Woodbine Avenue and Steeles Avenue East in Markham and book yourself a test drive.